Source: Xinhua
Editor: huaxia
Protesters rally at the Hiroshima Peace Memorial Park in a protest against the upcoming Group of Seven (G7) summit, in Hiroshima, Japan, May 18, 2023. (Xinhua/Zhang Xiaoyu)
As the G7 even cannot address its internal fractures or follow through on its pledges, the United States' attempt to counter China's rise alongside other G7 allies, each with their own axe to grind, is bound to fall flat.
by Xinhua writer Xia Yuanyi
BEIJING, May 19 (Xinhua) -- Almost one week ahead of this year's Group of Seven (G7) summit, the U.S.-led clique, as multiple media outlets have reported, is set to make a fuss over their willfully-concocted Chinese "economic coercion" in a statement to be released in time.
Such a witch-hunt is as nonsensical as it is downright ridiculous. When it comes to "coercion," the coercer of the first water is the United States. America's G7 allies must have much to grudge, given how Washington has exploited, or bled them, over the years.
For the record, Washington has been the first country in the world whose foreign policy was characterized as "coercive." In 1971, Alexander George, a professor at Stanford University, put forward the concept of "coercive diplomacy" to brand the policies of the United States on Laos, Cuba and Vietnam.
Over the past decades, the United States has time and again overstretched the concept of national security, abused controls on exports, and employed coercive practices against potential rivals, as evidenced by past engagements between itself and its treaty allies.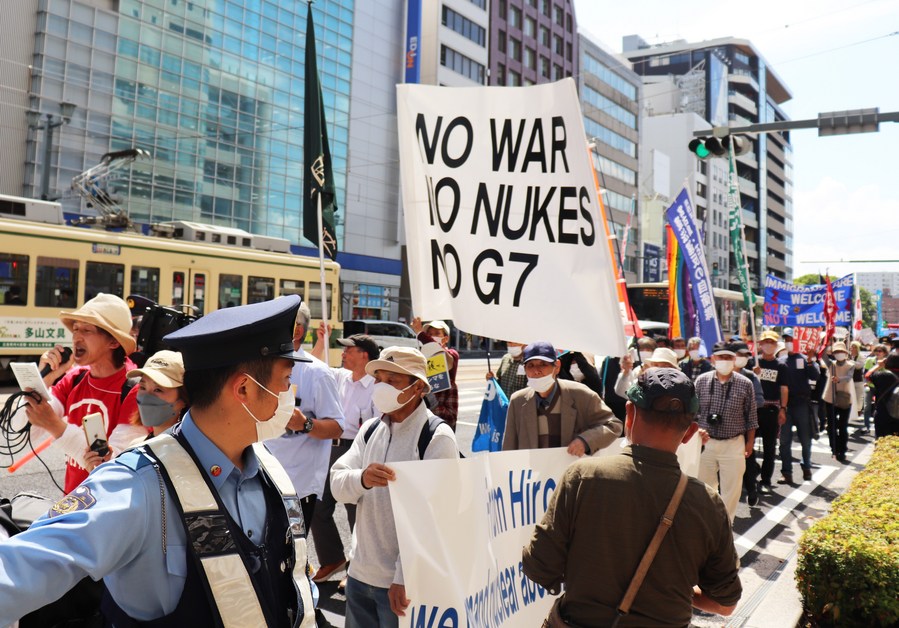 People holding banner protest against the upcoming Group of Seven (G7) summit in Hiroshima, Japan, May 14, 2023. Hundreds of Japanese citizens took to the streets in the Japanese city of Hiroshima over the weekend to protest against the Group of Seven (G7) summit.(Xinhua/Yang Guang)
Following an economic boom in the post-war era, Japan, then the world's second-largest economy only after the United States, signed the Plaza Accord in 1985 with the United States, Britain, Germany and France and fell victim by strengthening the Japanese Yen, thereby plummeting into its "lost decades."
Some 30 years on, the Nikkei 225, a stock index of major Japanese companies, has still not returned to its 1989 peak of nearly 39,000, whereas the three major U.S. stock indexes have risen far more than 1,000 percent.
Other G7 members are by no means immune to Washington's economic bullying, and Germany's Siemens and France's Alstom have become easy prey for the superpower's super-suppression.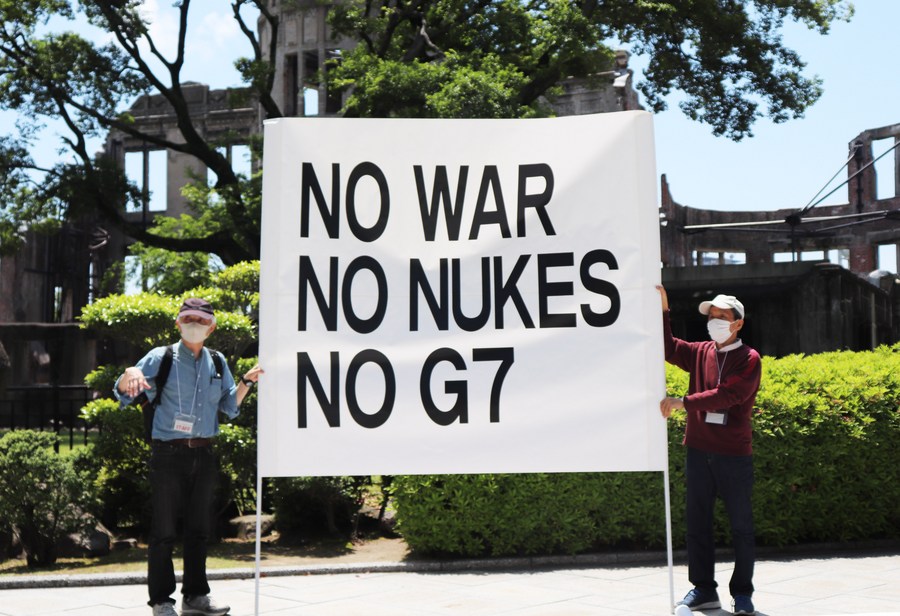 People hold a banner against the upcoming Group of Seven (G7) summit at the site of the atomic bombing near the Peace Memorial Park in Hiroshima, Japan, May 14, 2023. Hundreds of Japanese citizens took to the streets in the Japanese city of Hiroshima over the weekend to protest against the upcoming Group of Seven (G7) summit.(Xinhua/Yang Guang)
For them, prompting the bully to refrain from any further coercive or fleecing behavior, instead of acting as its unwitting or submissive accomplices, might be the first sensible step towards their stated target of "safeguarding economic security."
As of 2021, the United States has implemented more than 9,400 sanctions and imposed unilateral economic sanctions on nearly 40 countries around the world, affecting nearly half of the world's population.
China has also succumbed to U.S. economic coercion. Using fabricated excuses to suppress China's hi-tech industry, Washington has put more than 1,000 Chinese companies on its sanction list.
Apart from introducing the CHIPS and Science Act of 2022 and a sweeping set of export controls on technology and chipmaking equipment to China, the United States also pressured its allies to erect similar restrictions on a diverse suite of semiconductor technology targeting China.
To hype up the groundless "economic coercion" charge, Washington has at least two ulterior motives: to smear China and to force its allies to reduce economic interdependence. Both will indubitably come to naught.
For one thing, Beijing has never adopted any "economic coercion" whatsoever; for the other, few countries in the world would simply ignore the development opportunities brought about by China's steady economic prospects and its commitment to high-level opening up.
In reality, while the United States is attempting to lull its allies into unplugging from China, many European companies are accelerating their entry into the world's second-largest market. Preliminary data from German Economic Institute IW showed that German companies are increasing investment in China.
"The fact that the Chinese market will continue to play an important role in the future is undisputed," Wolfgang Niedermark, a member of the Federation of German Industries BDI's Executive Board, was quoted by Reuters as saying.
And back in April, during his visit to China, French President Emmanuel Macron was accompanied by a strong business delegation, including European aircraft manufacturer Airbus, luxury giant LVMH, and France's largest electricity company EDF, in an effort to bolster commercial ties. Also in April, Airbus and its Chinese partners signed an agreement to expand its A320 family final assembly capacity with a second line at its site in the northern Chinese city of Tianjin. The new assembly line will contribute to Airbus' goal of producing 75 A320 family aircraft per month by 2026 through its global production network.
In fact, rifts have already surfaced within the G7 on issues regarding China. In mid-May, despite U.S. Treasury Secretary Janet Yellen's efforts to sell the "economic coercion" narrative, the communique issued after the G7 finance ministers and central bank governors meeting didn't mention China at all.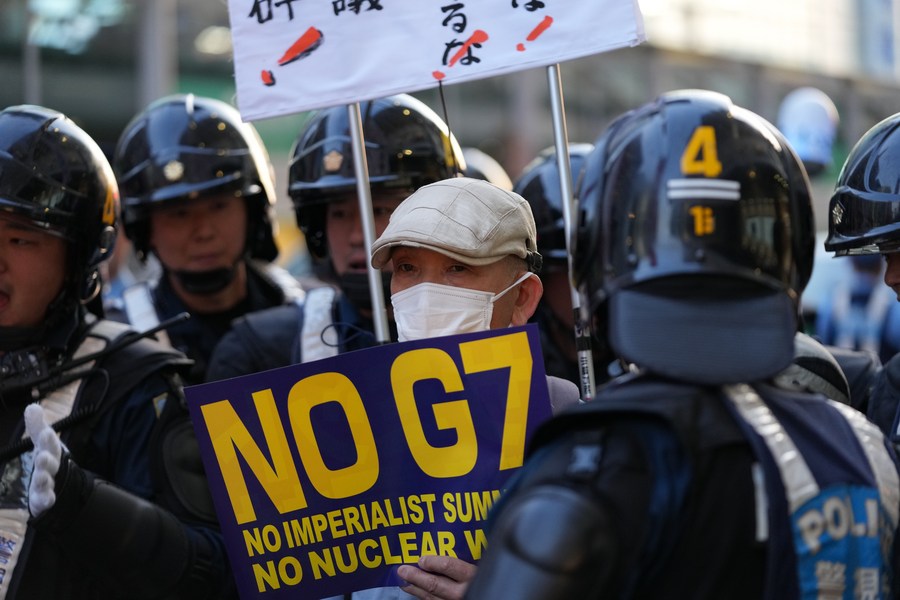 A man holding a banner protests against the upcoming Group of Seven (G7) summit, in Hiroshima, Japan, May 17, 2023. (Xinhua/Zhang Xiaoyu)
The G7, an exclusive club of industrialized economies formed during the Cold-War era, was founded primarily to facilitate shared macroeconomic initiatives in response to contemporary economic problems. Although the group's share of global GDP has declined from nearly 70 percent in 1989 to some 40 percent in 2021, it is actually bringing economic problems to the world, not solving them, and paying lip service to its commitment to making the world a better place for all.
As the group even cannot address its internal fractures or follow through on its pledges, the United States' attempt to counter China's rise alongside other G7 allies, each with their own axe to grind, is bound to fall flat.■